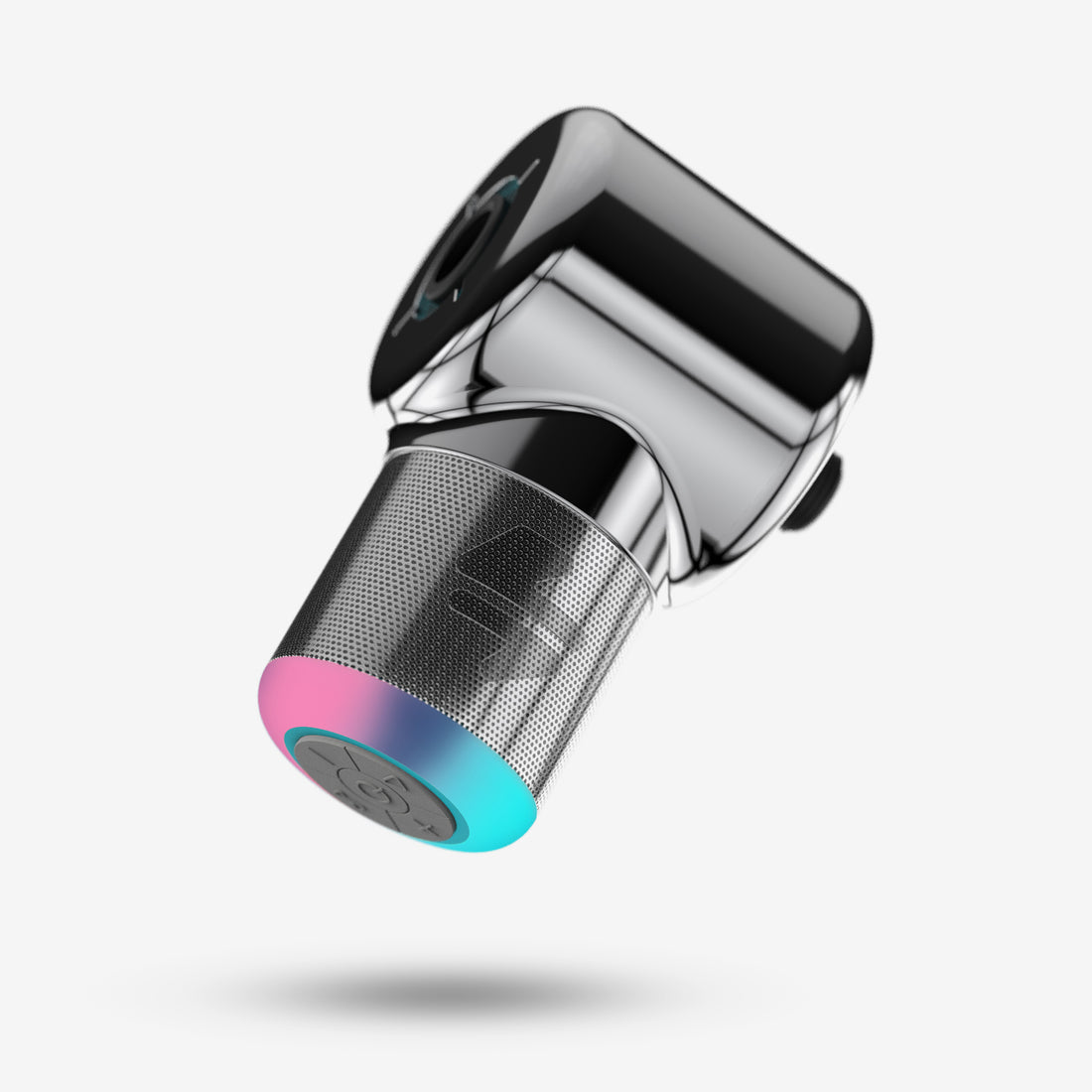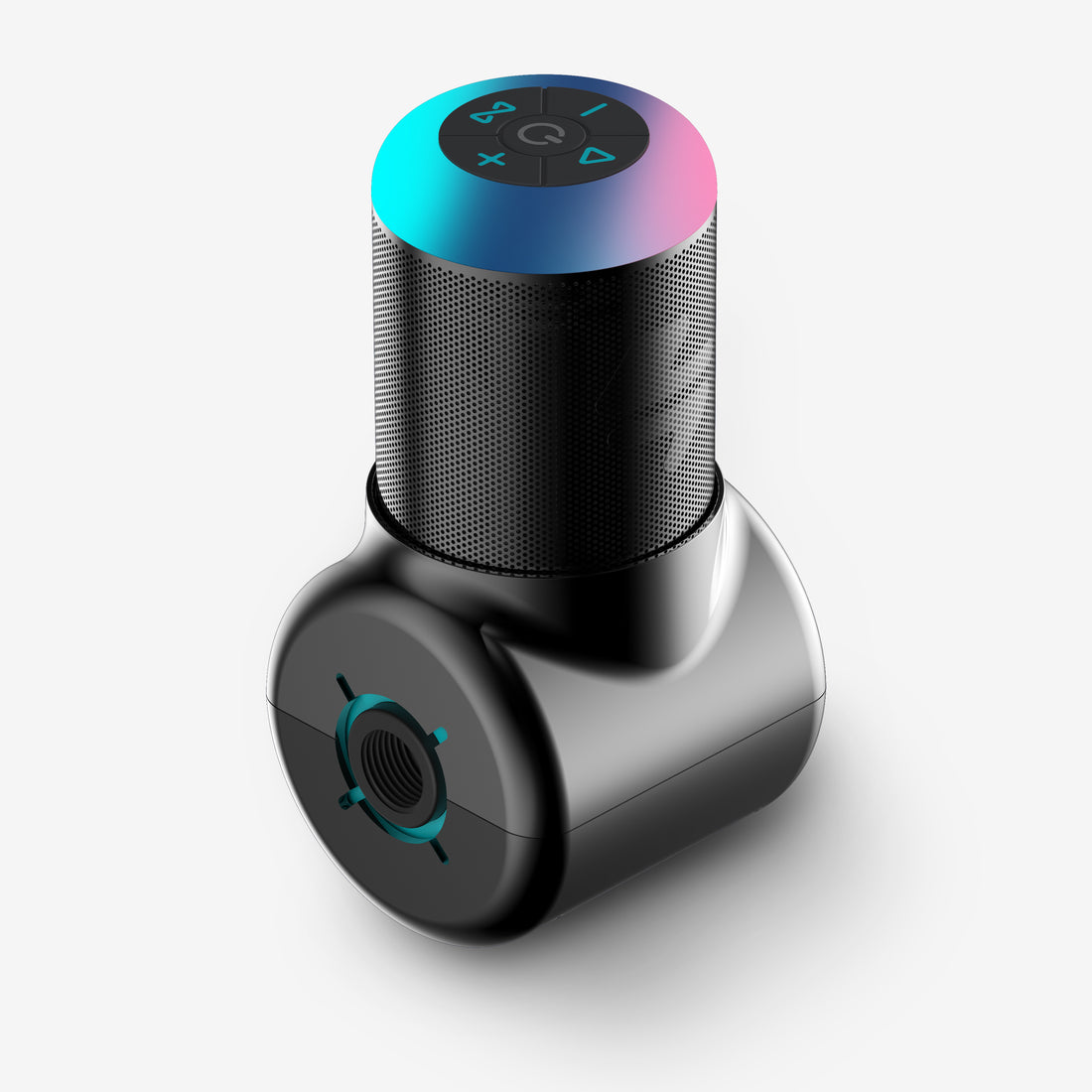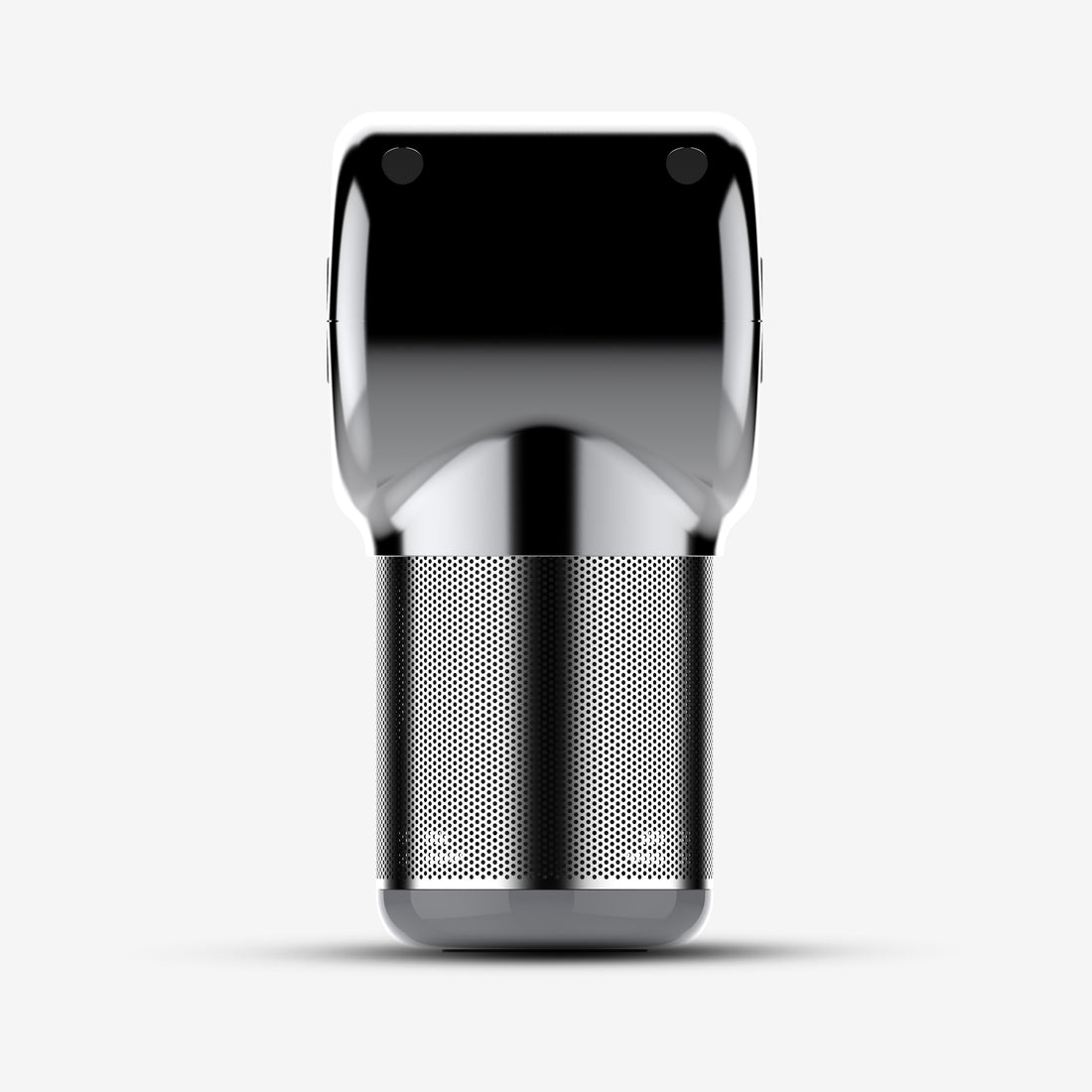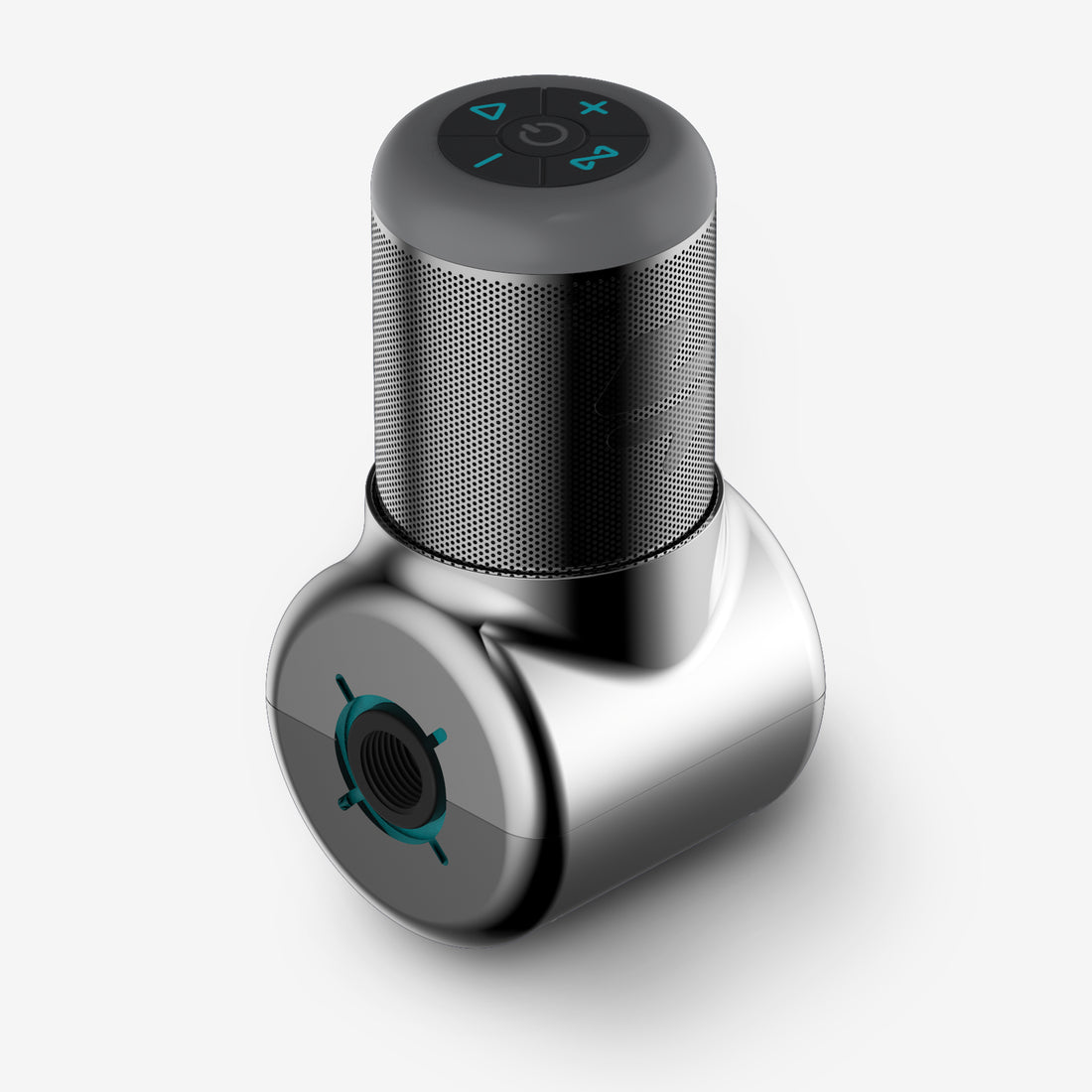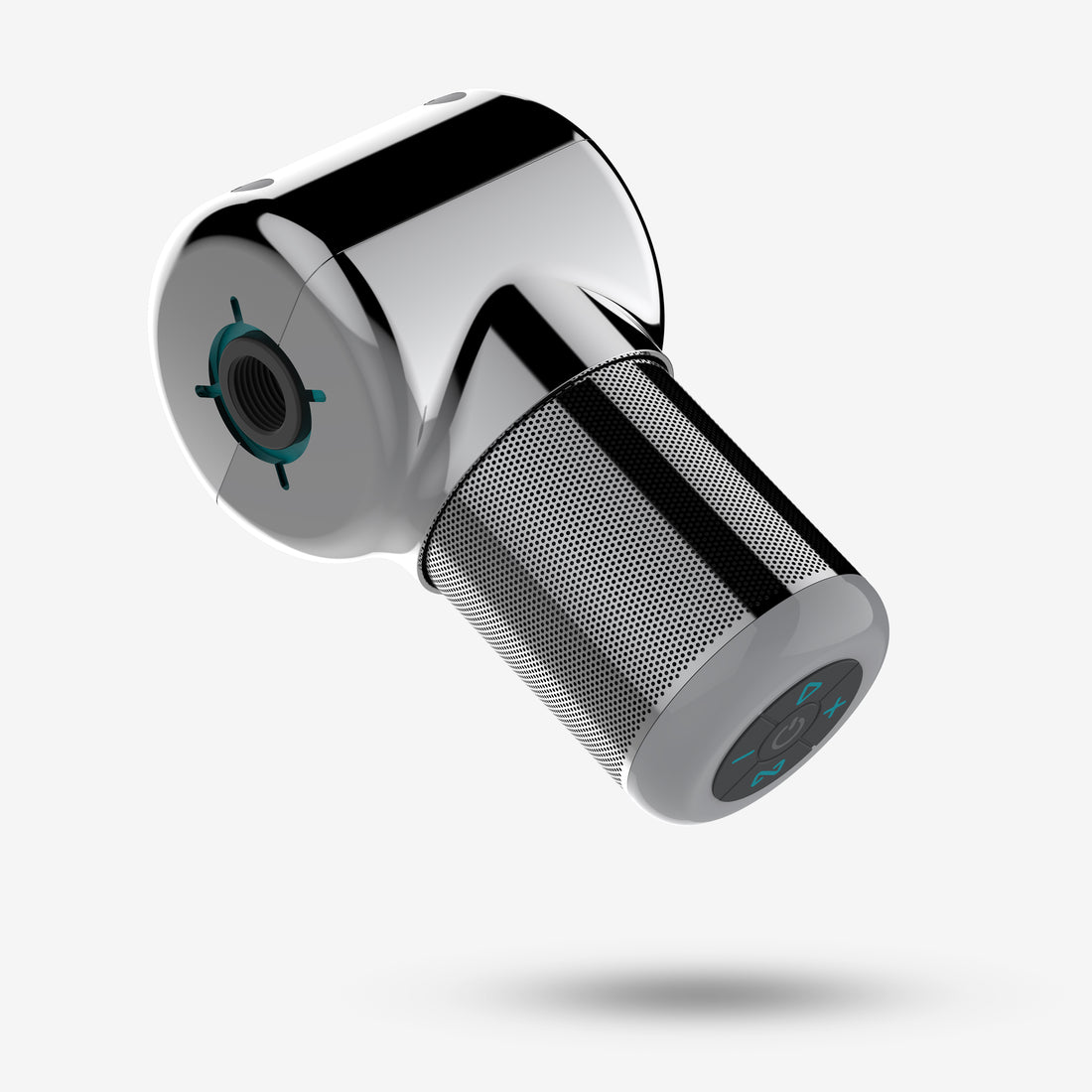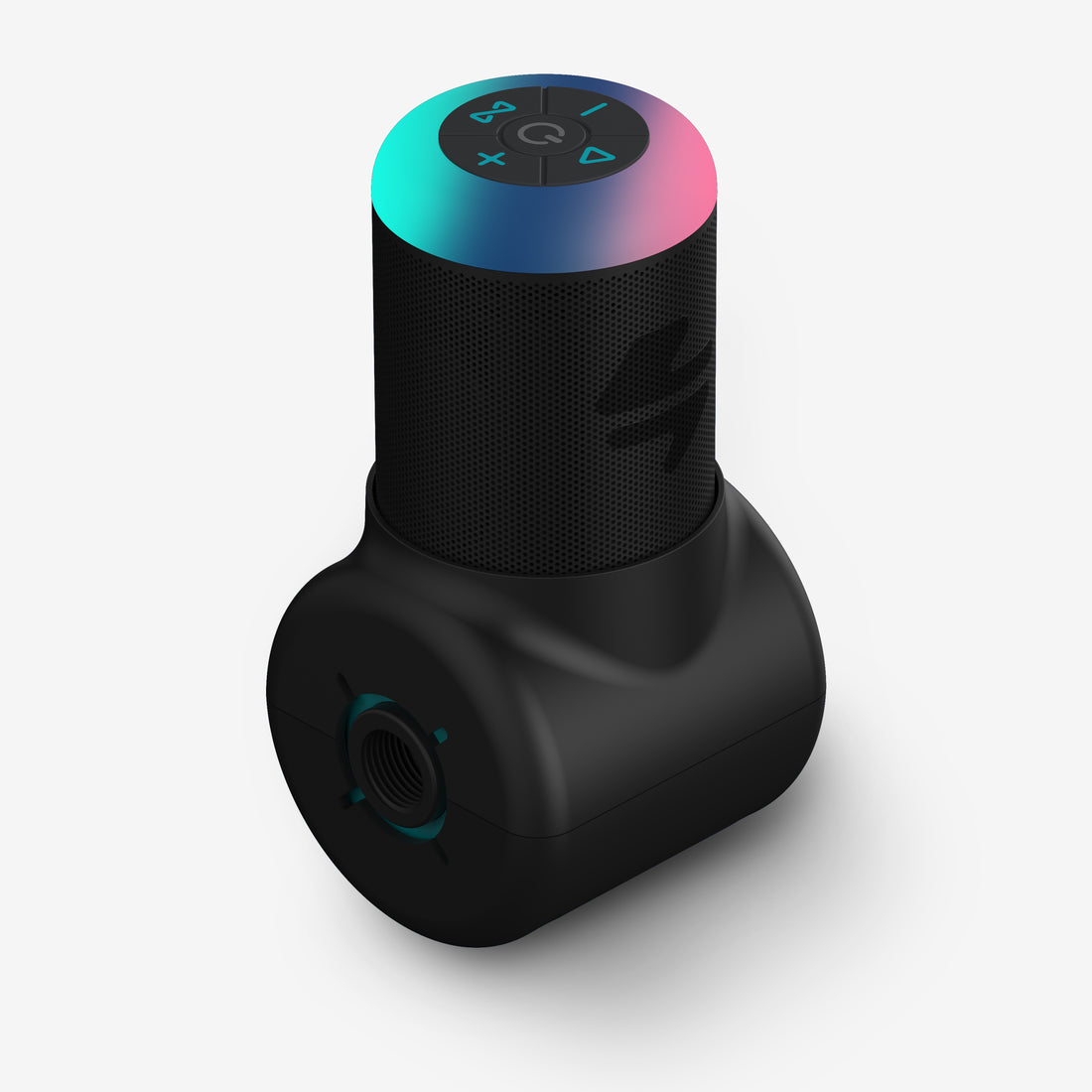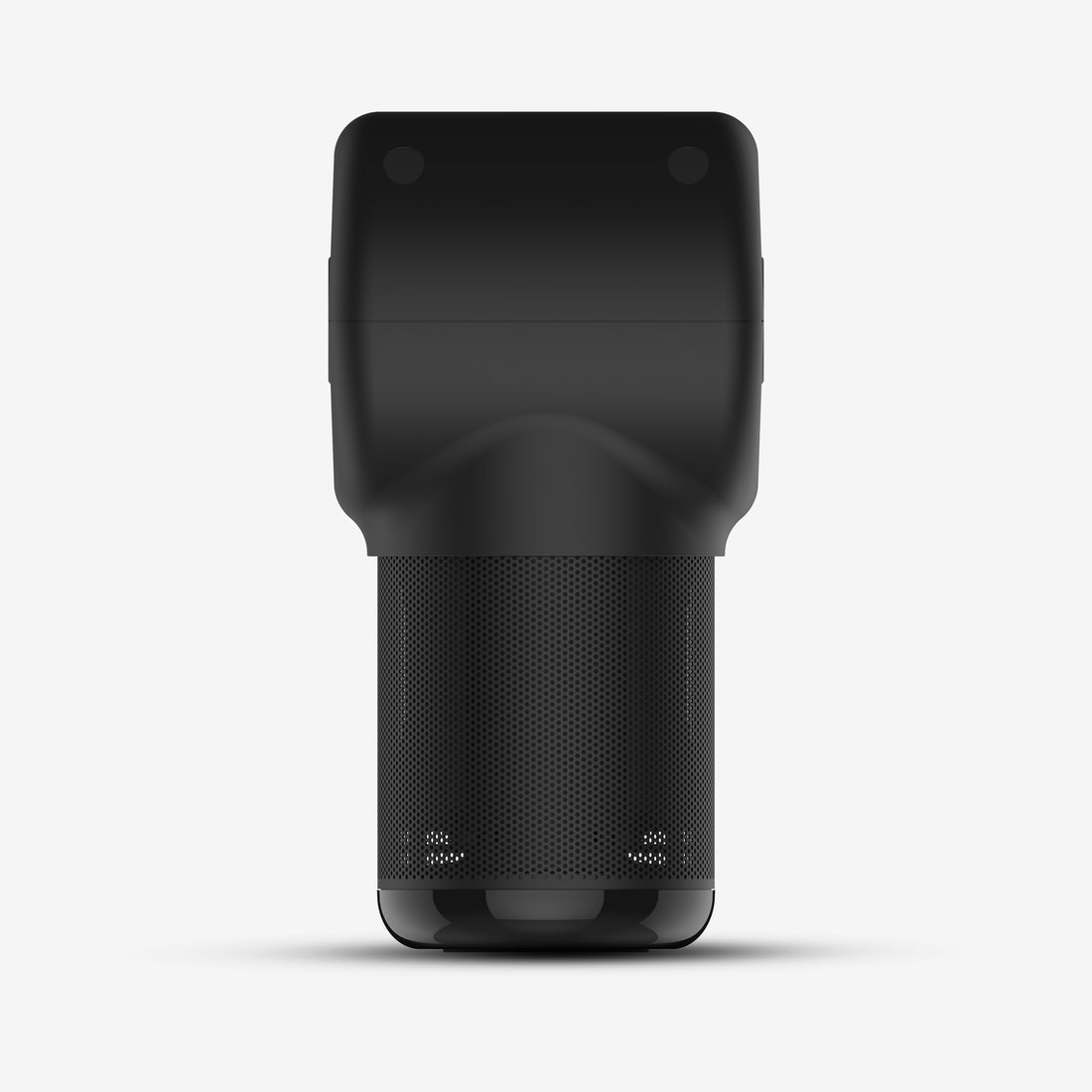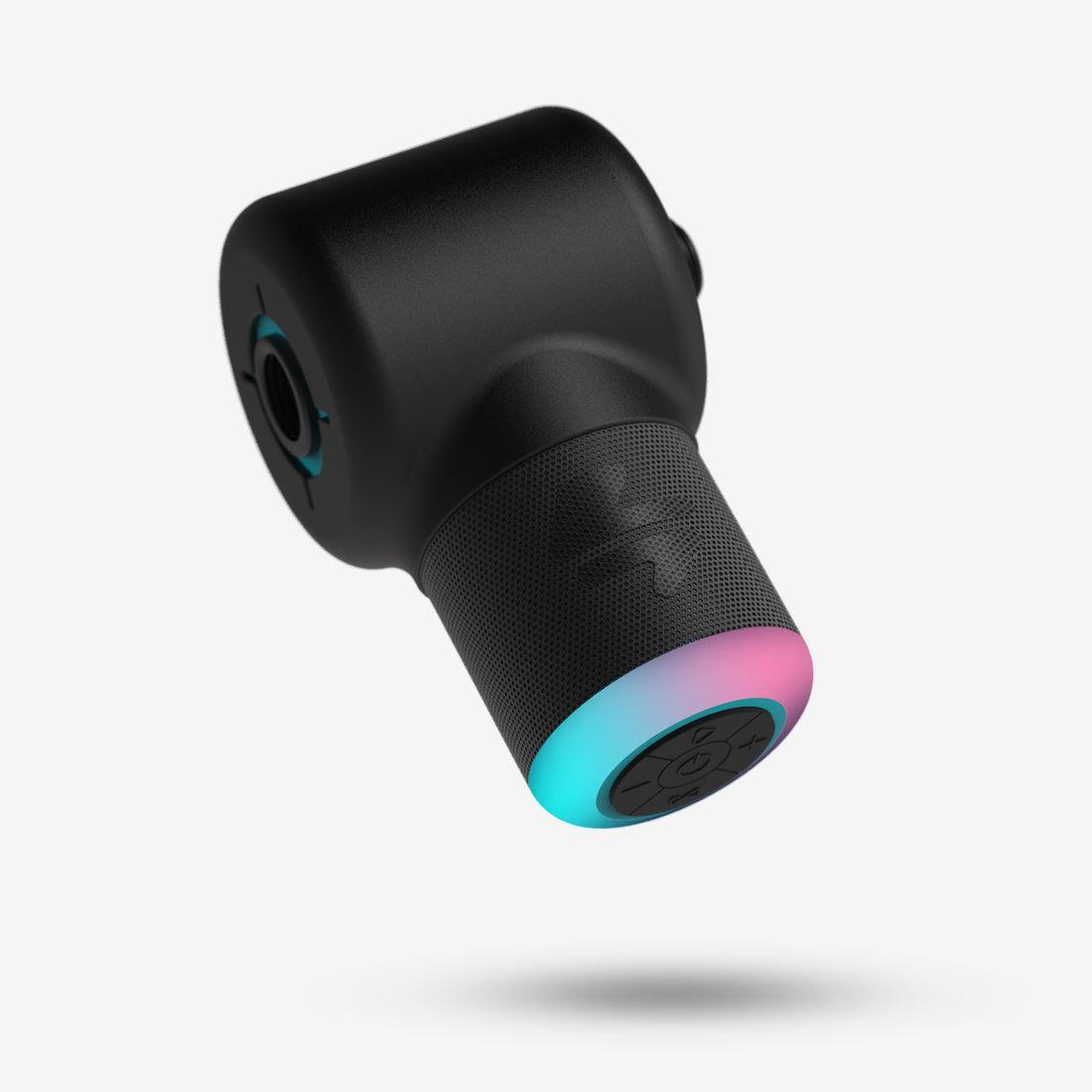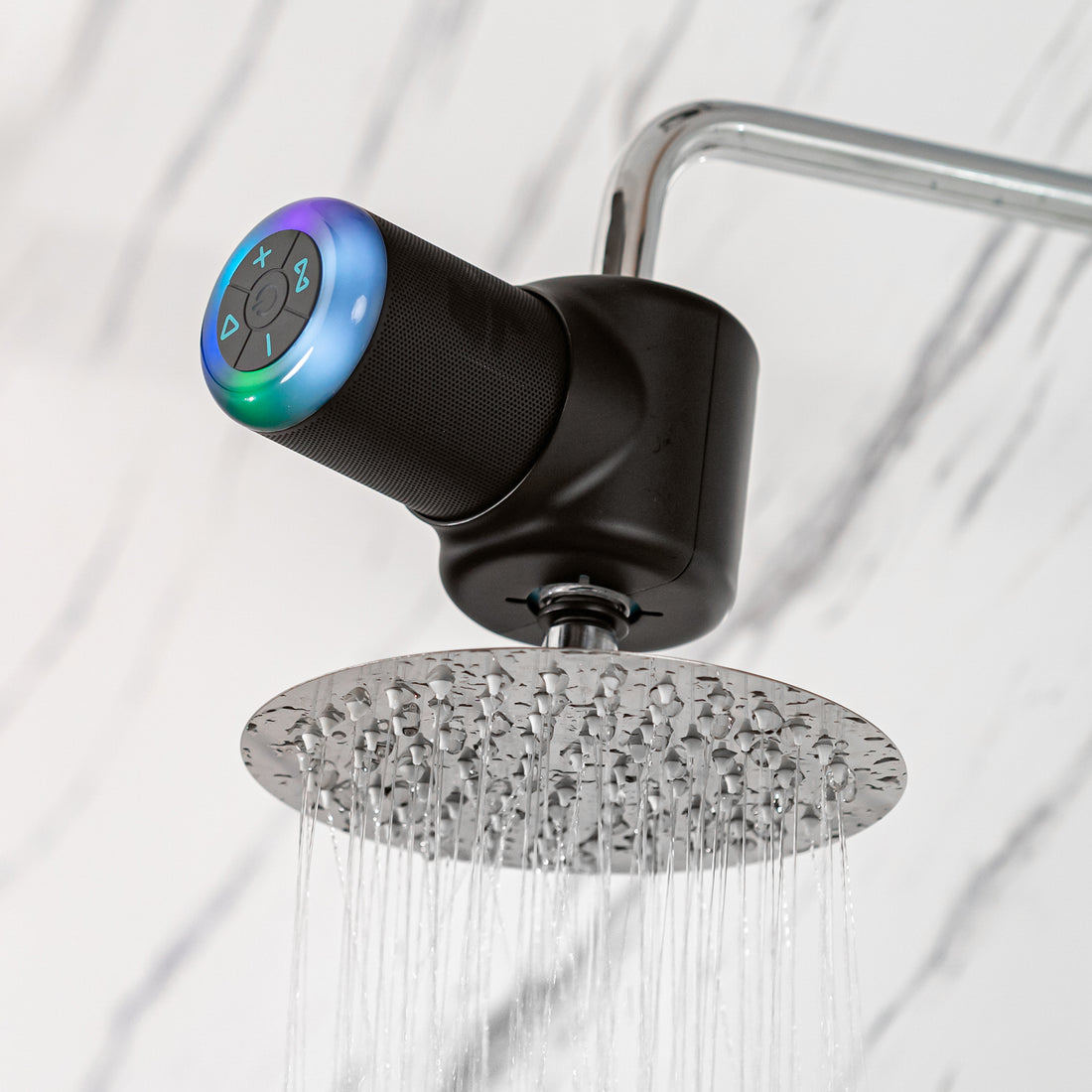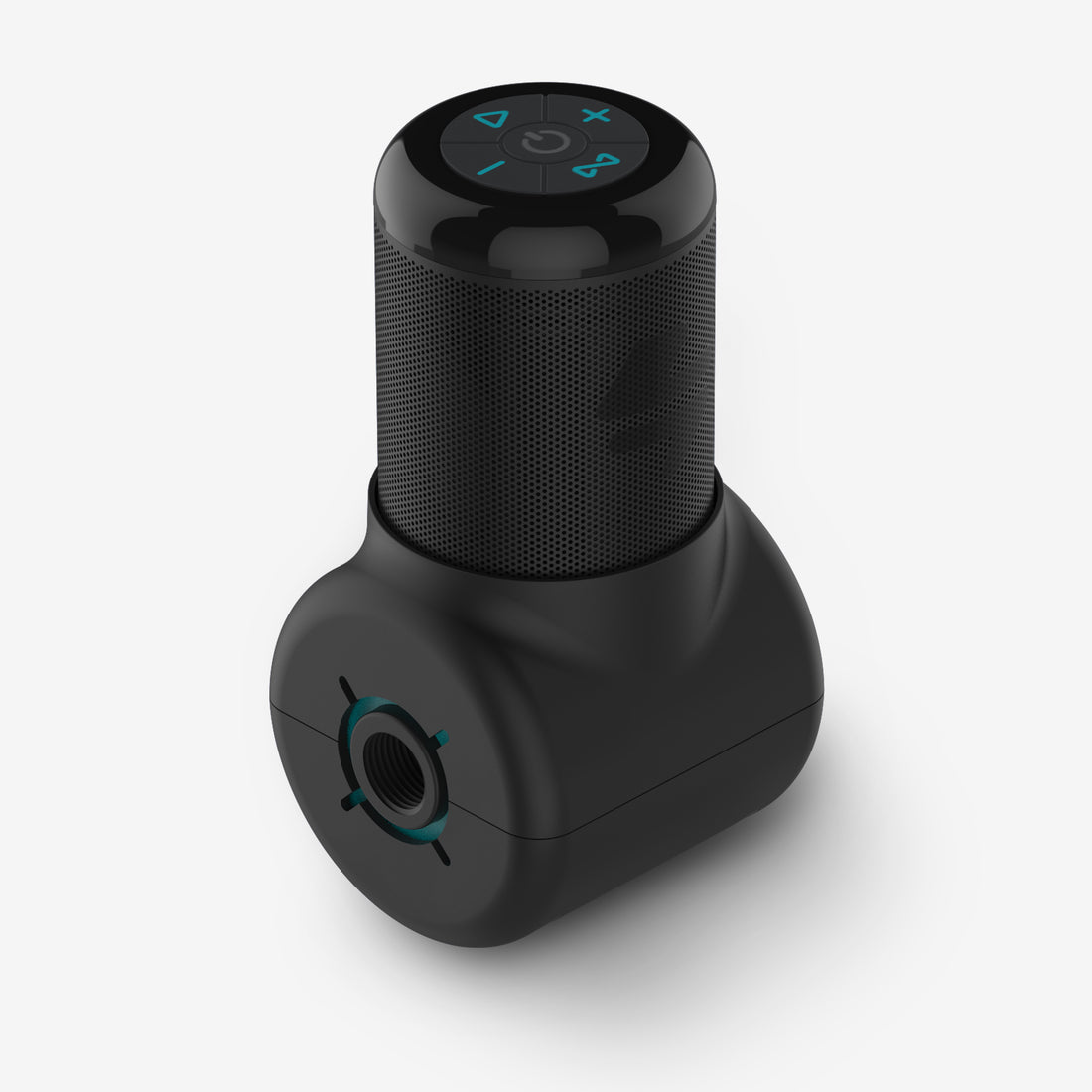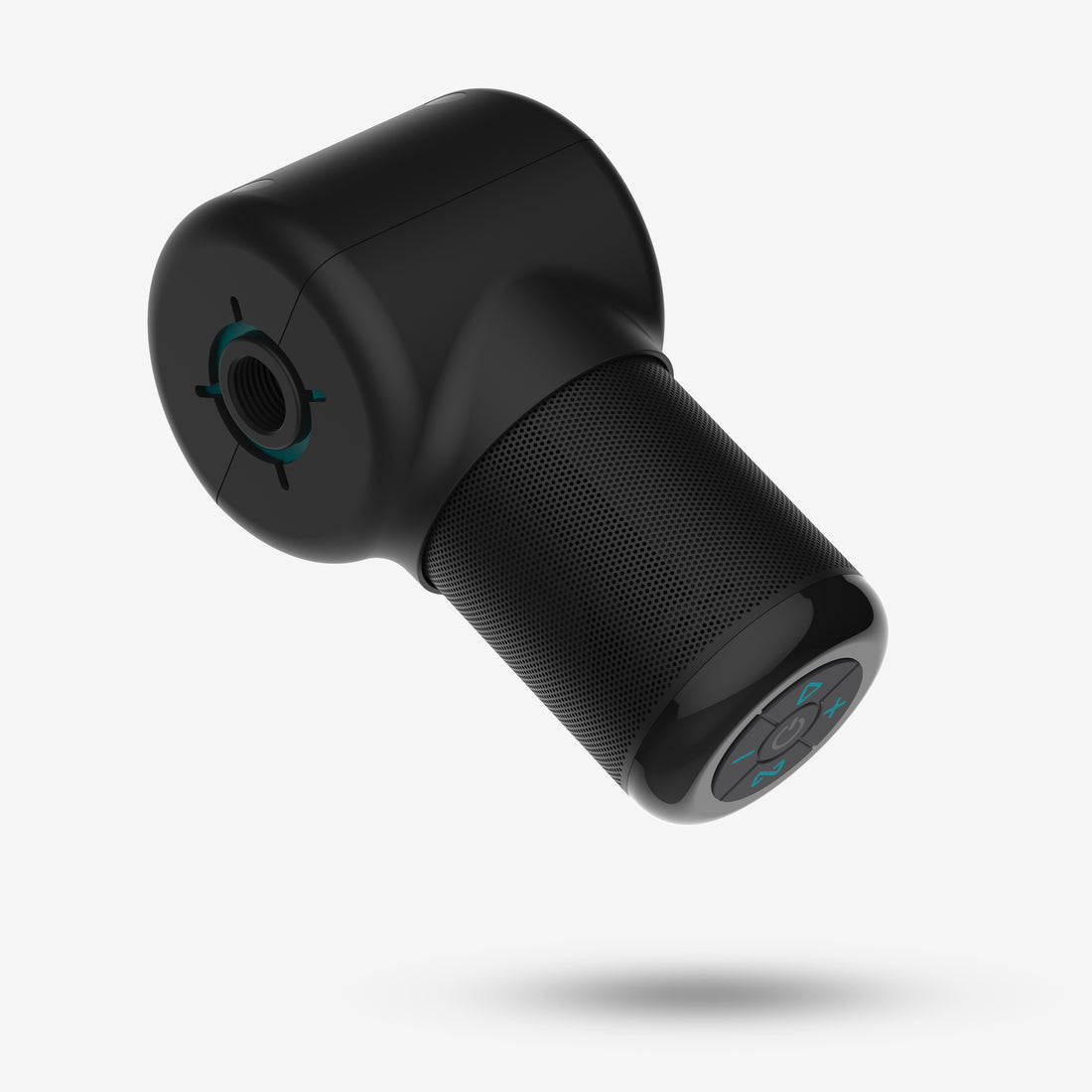 Shower Power Pro
Hydropower Bluetooth Shower Speaker with LED Lights
or 4 interest-free payments of $25 with

or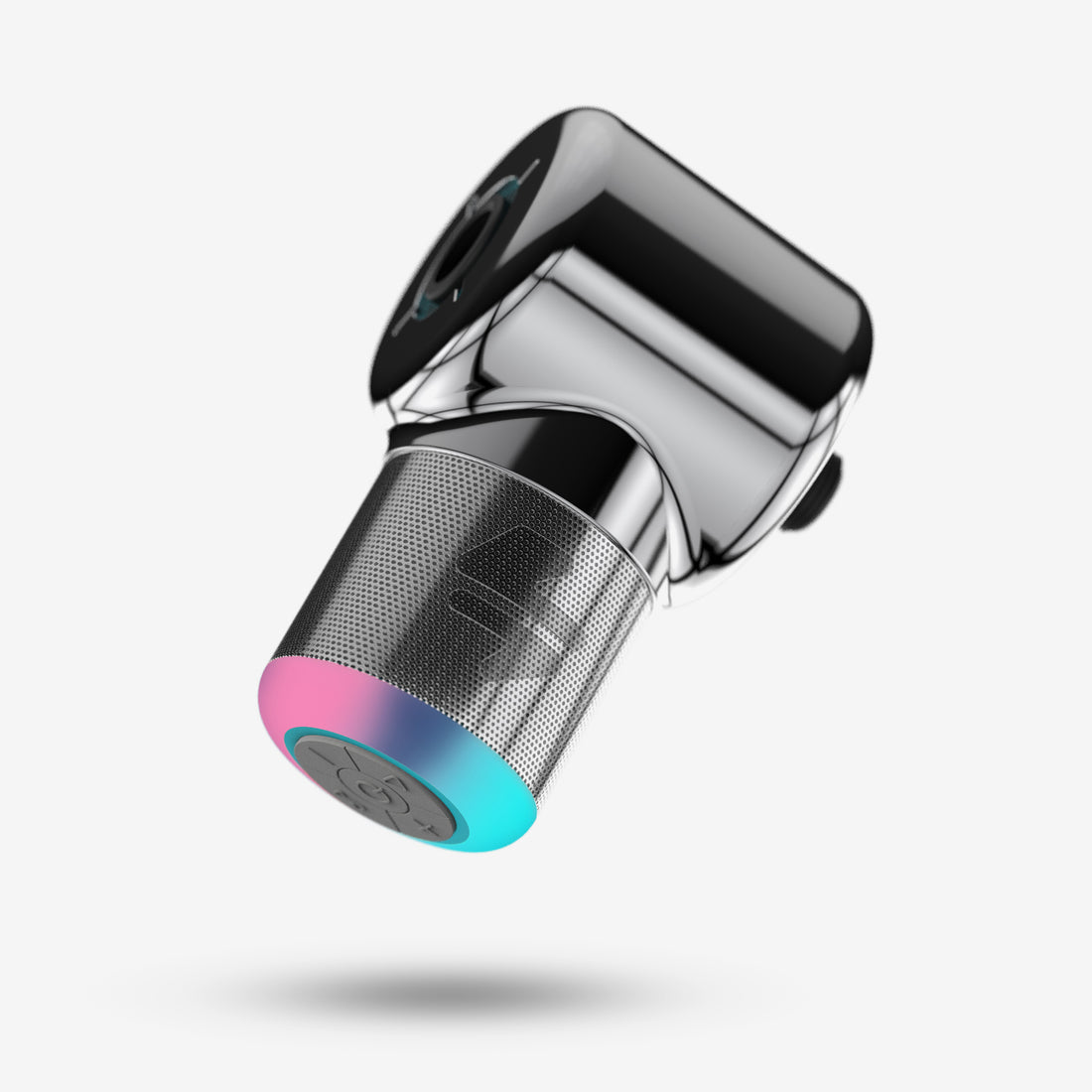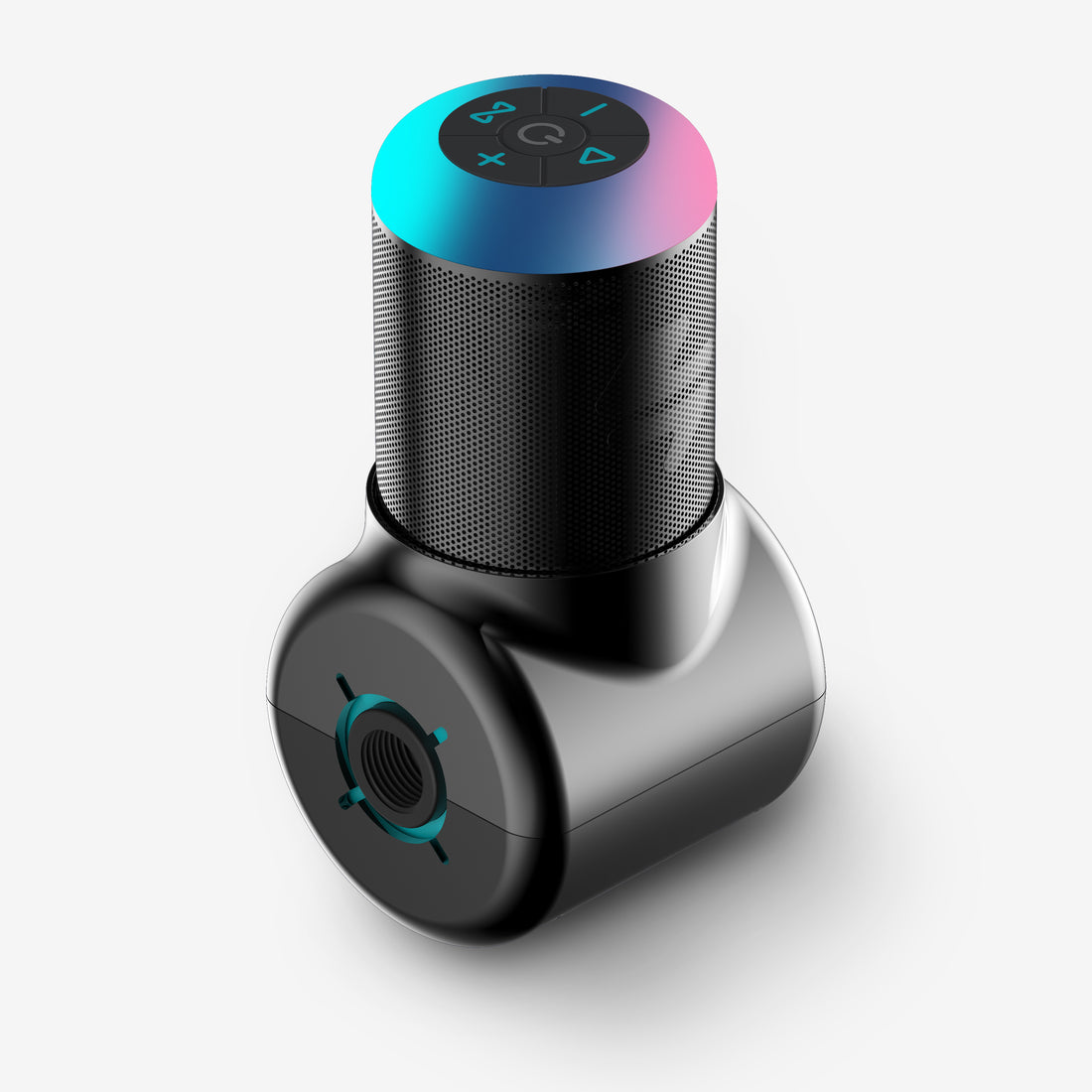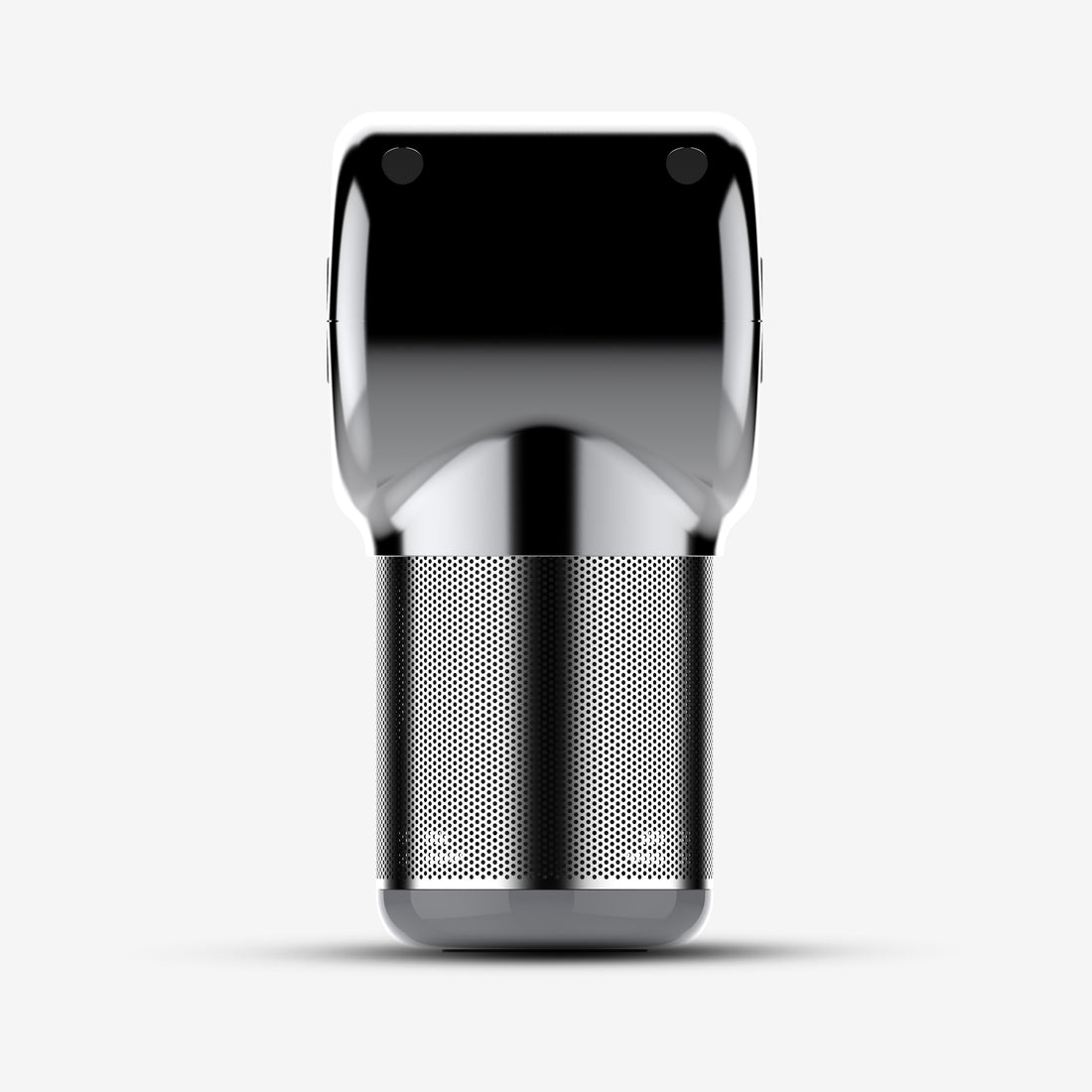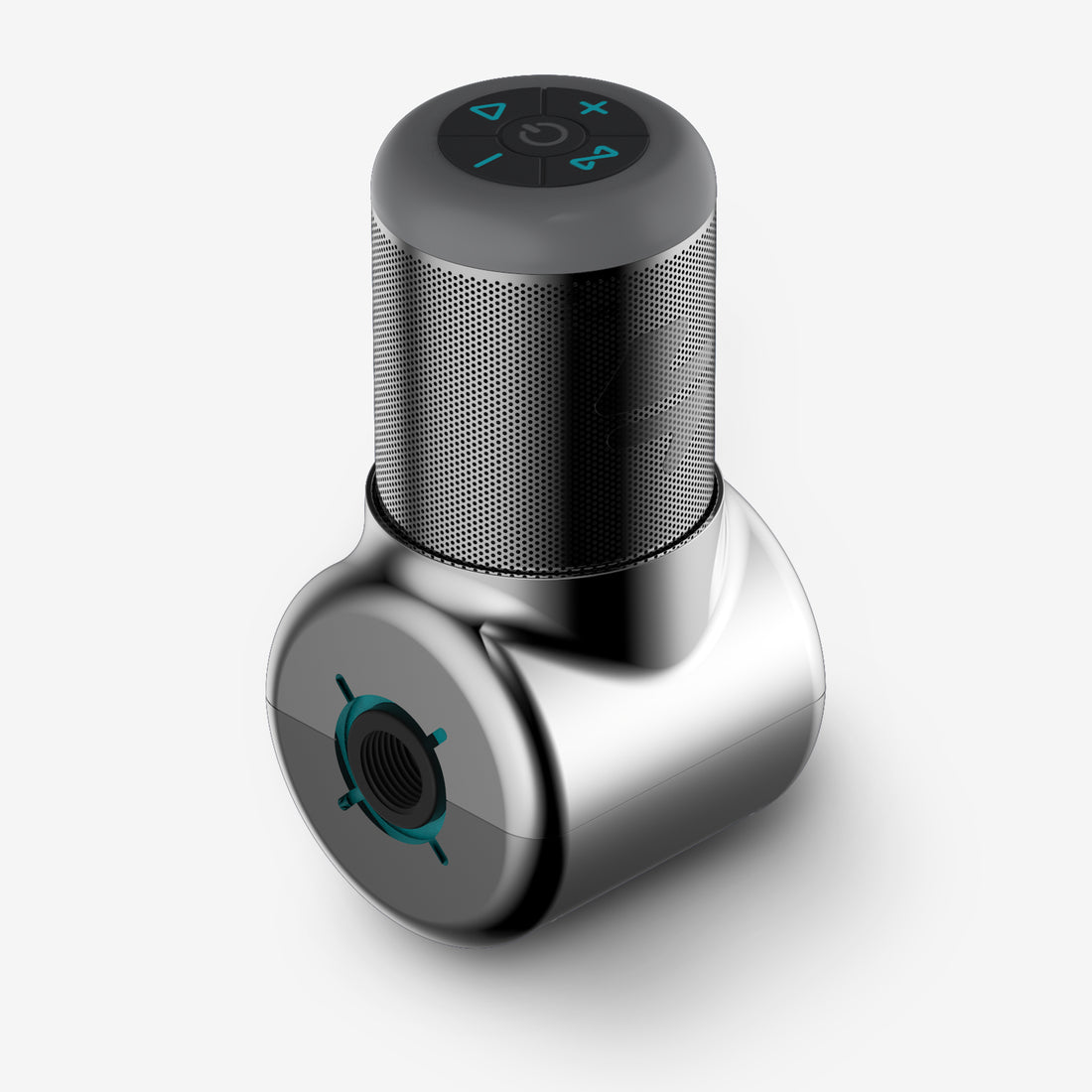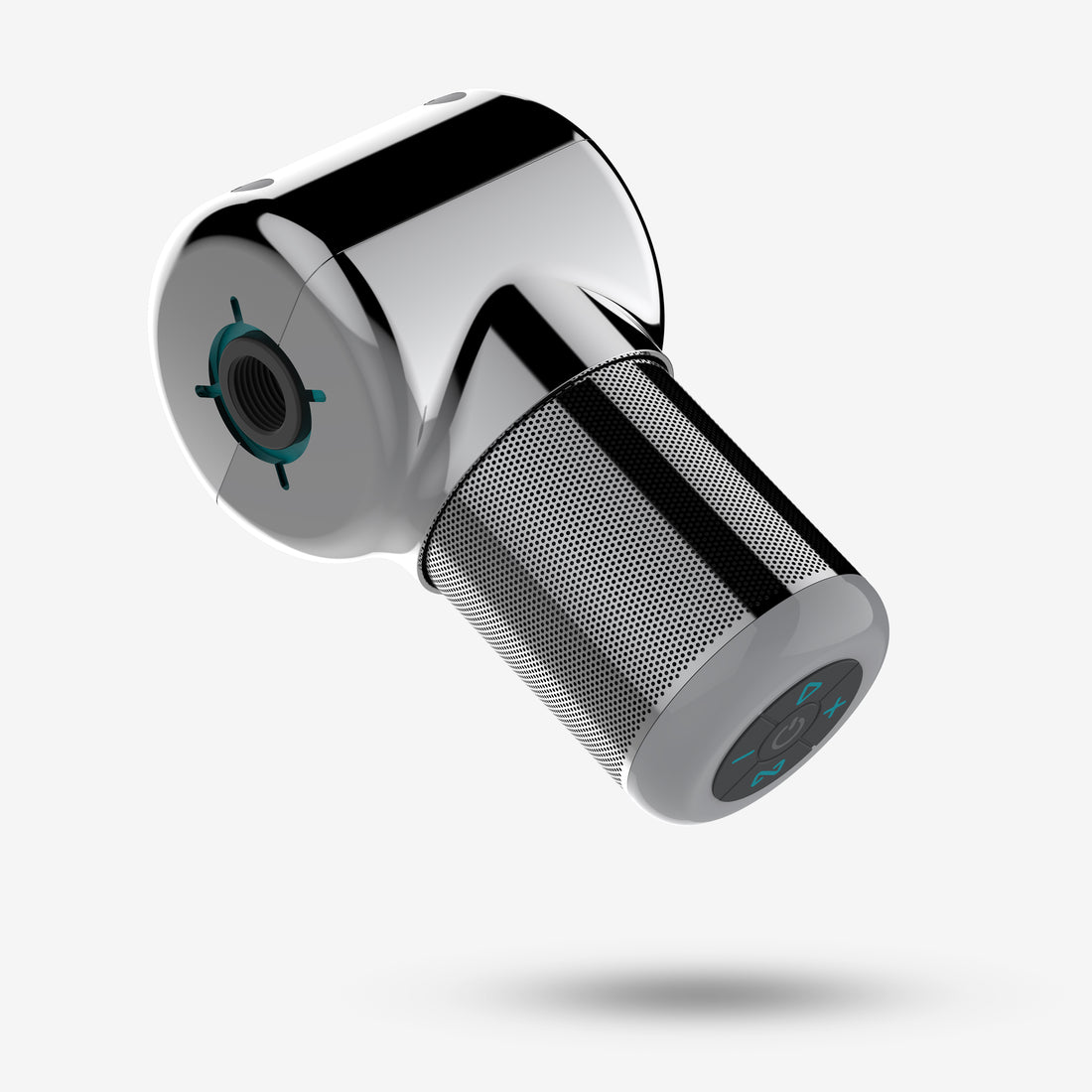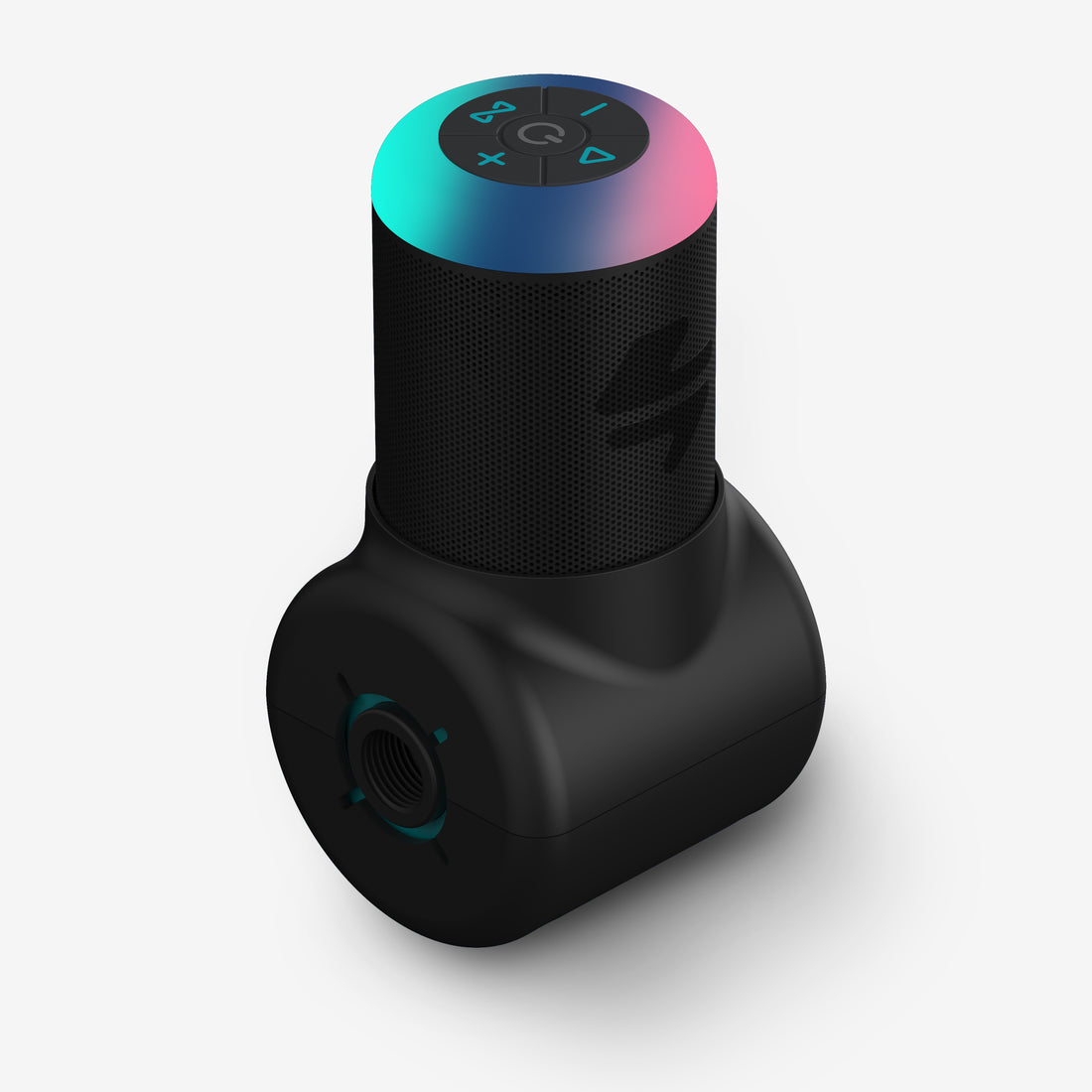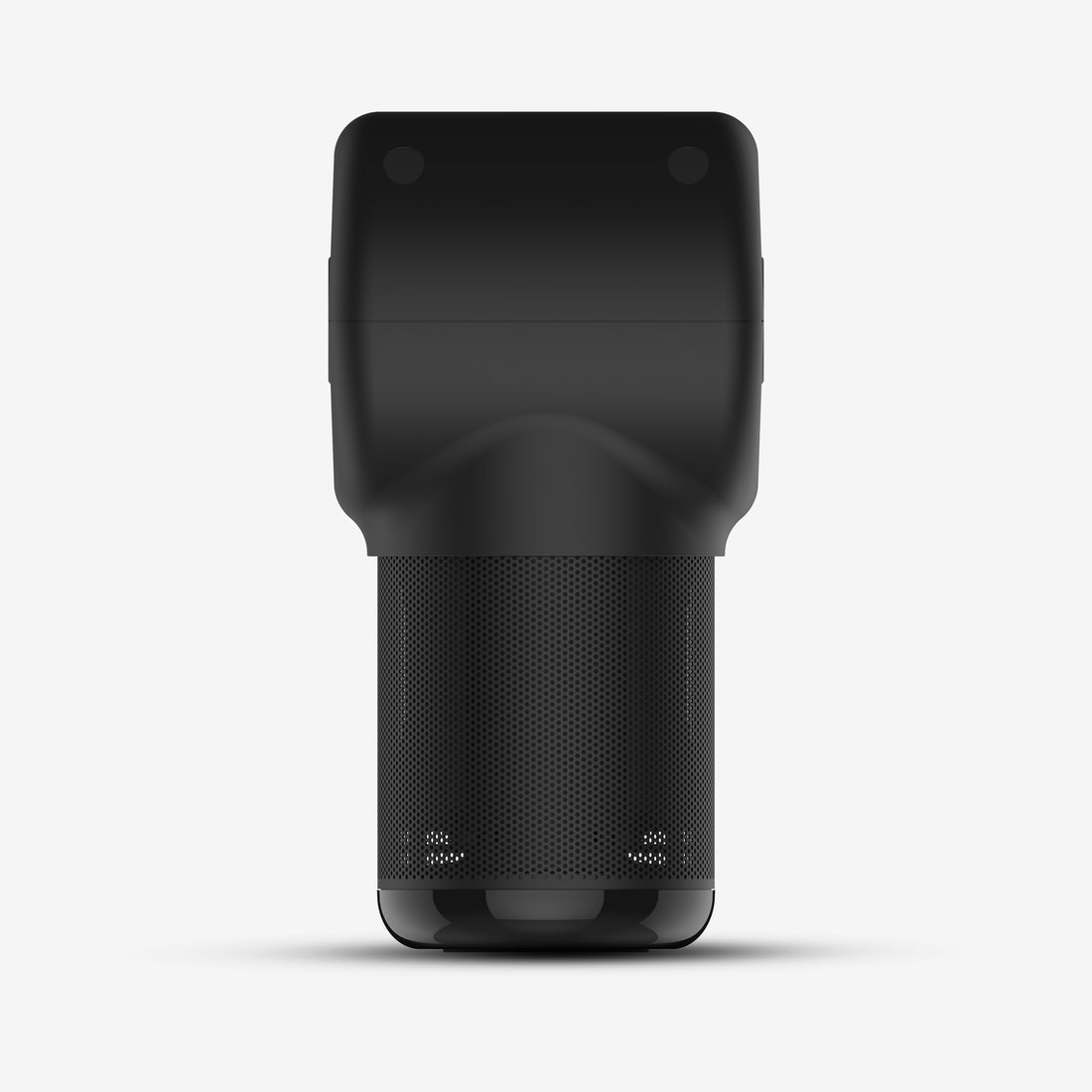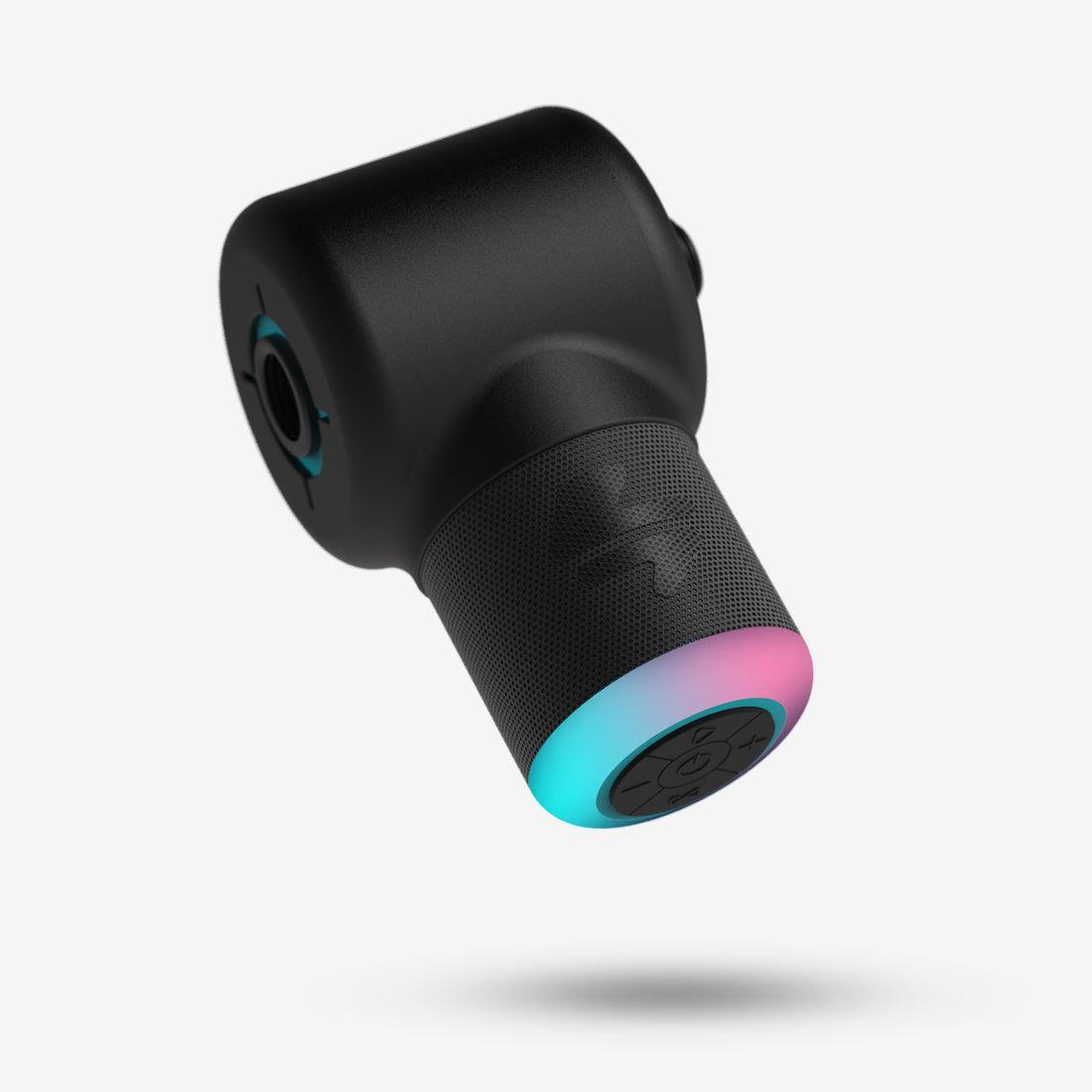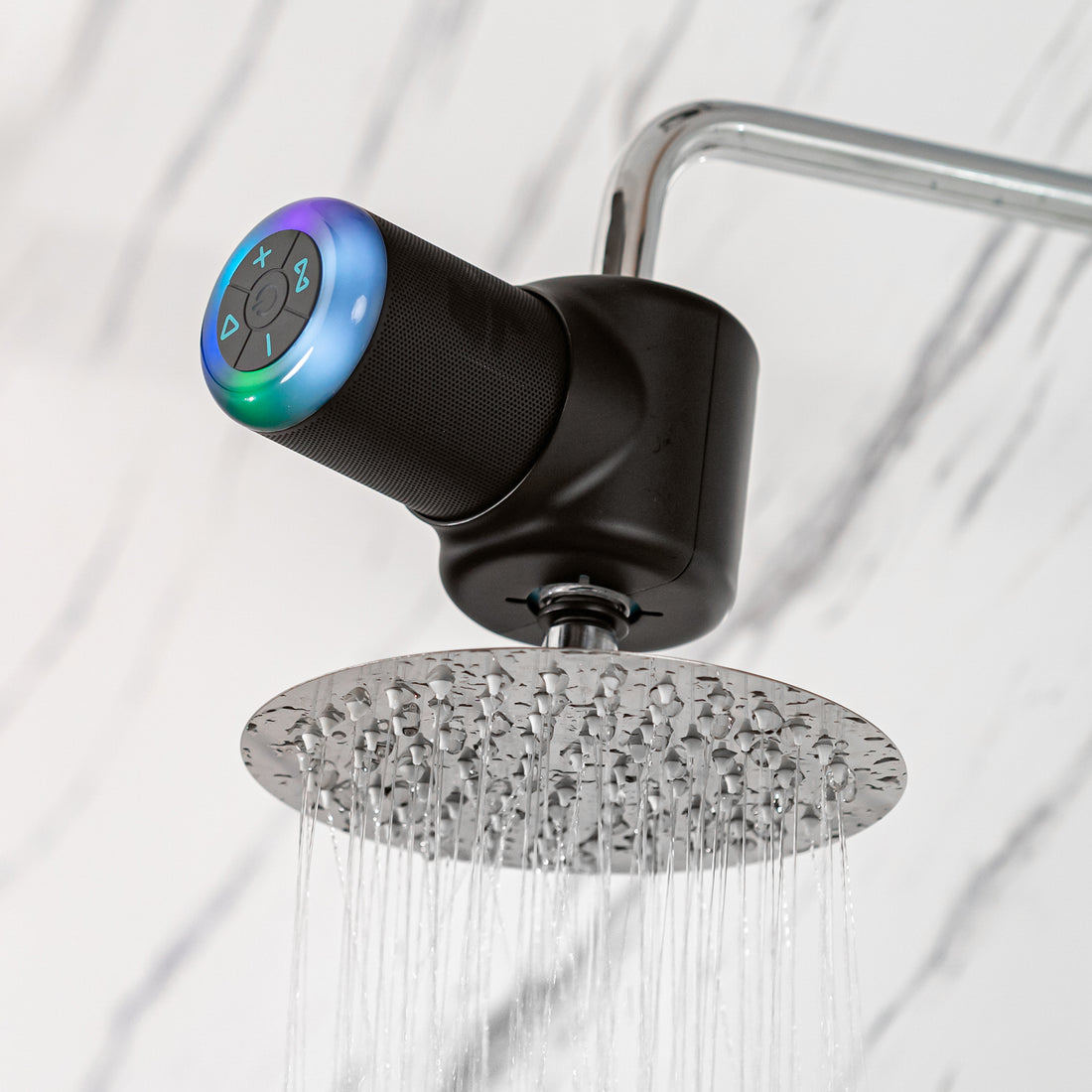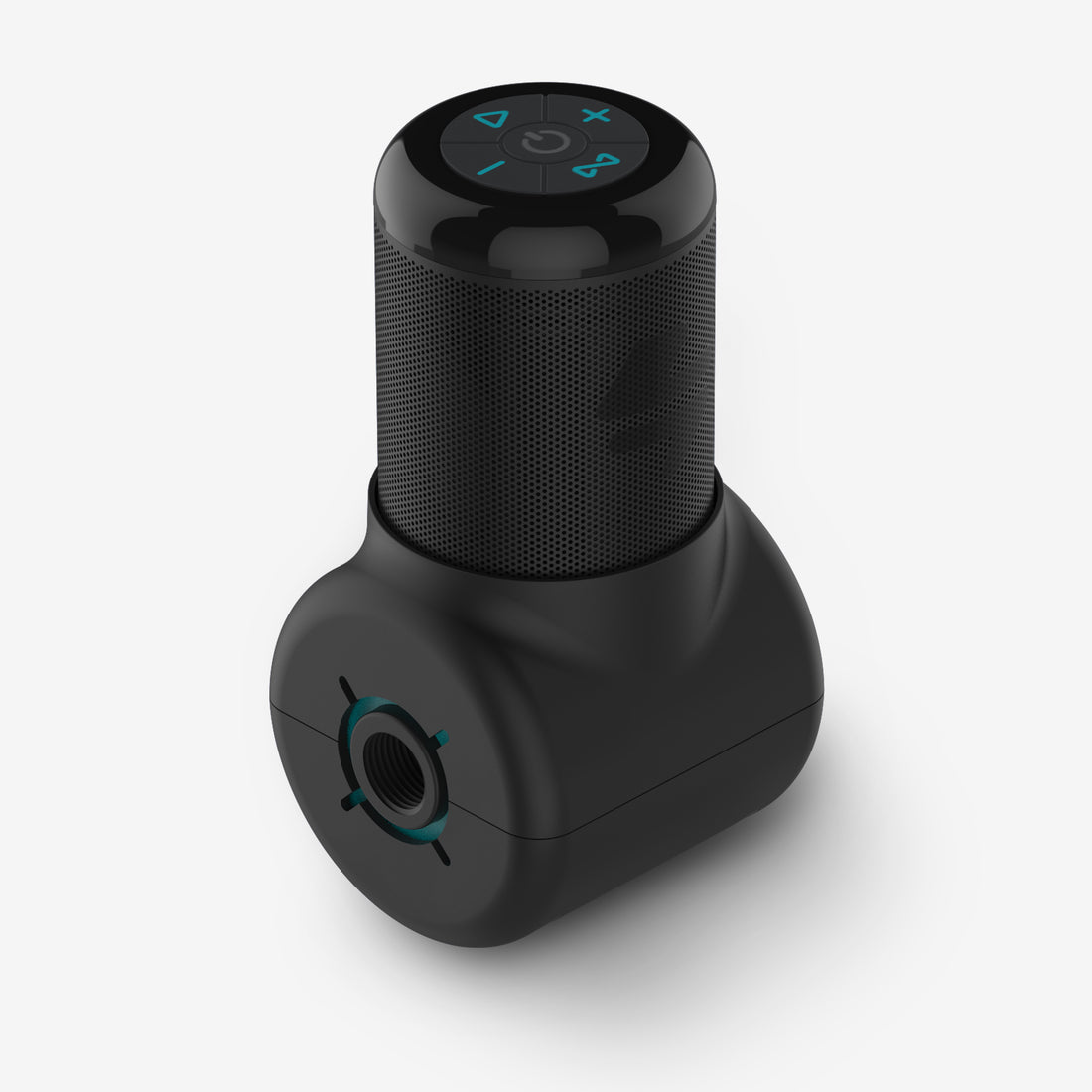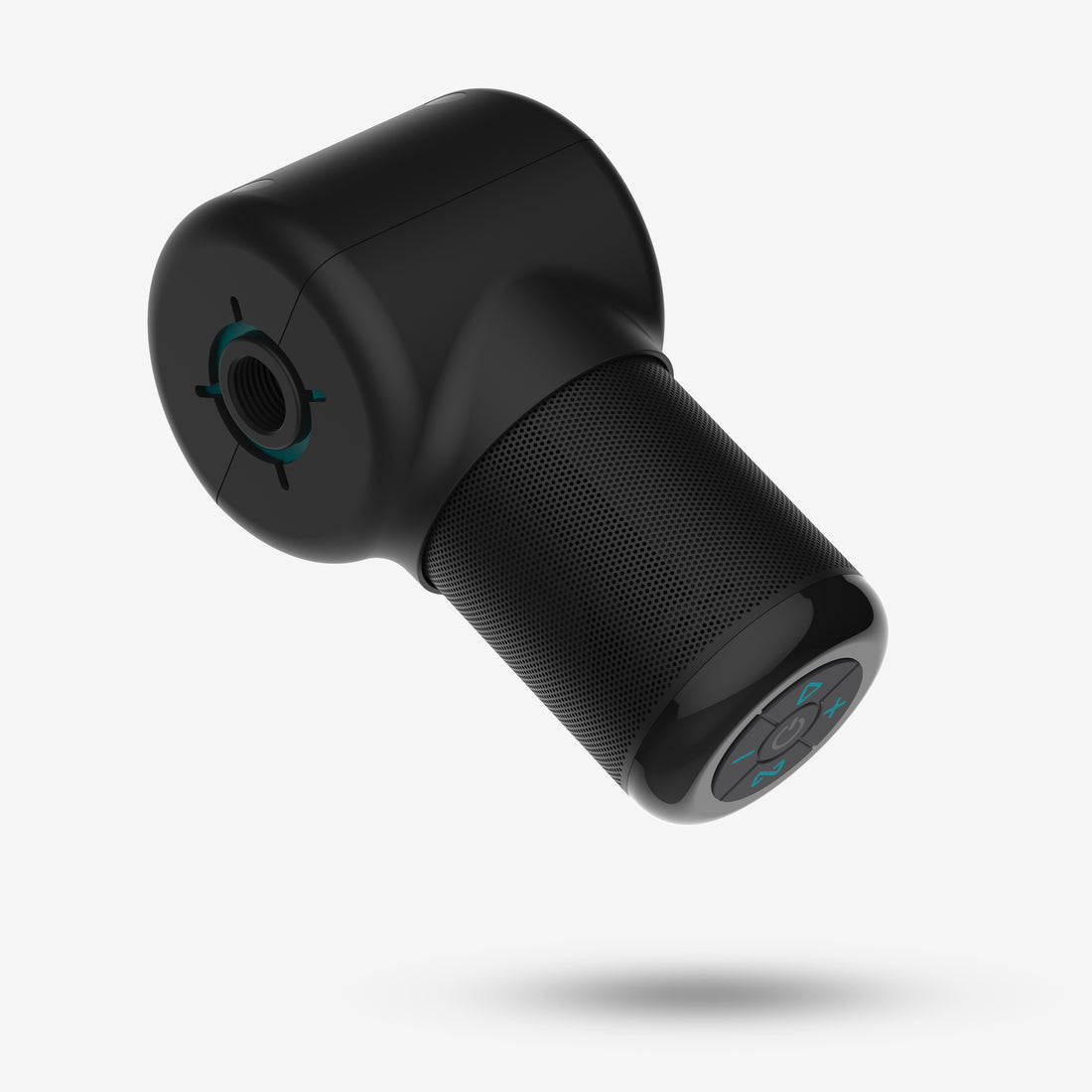 Shower Power Pro is the world's first app-enabled hydropowered Bluetooth shower speaker — so you'll always have music and a light show in the shower. As seen on Henry Ford's Innovation Nation on CBS. 
Powered by water

Bluetooth 5.0

360° light show and sound

100% waterproof

App-enabled: track water temperature and usage

Endless listening time with the water running

16 hours of playtime when your shower is off

Pairs with other Ampere speakers

Fits on any showerhead

Installs easily in 1 minute

Made from recycled ocean plastic

CES 2021 Innovation Honoree Award Winner

1-year warranty
Battery
2,200 mAh battery capacity
Battery life with water running: ∞ of listening time
Battery life without water running: Up to 16 hours of listening time
Battery charging time with hydro-generator: 12-18 hours
Battery charging time with USB-C input: 2 hours
Other Technical

Bluetooth 5.0
Bluetooth Range: 10m
Connect up to 2 source devices simultaneously, wirelessly play (stream) music from either one
TWS Enabled: Pair two Ampere speakers for surround sound
Frequency Range: 150hz-12Khz
Speaker Size: 45mm
Speaker Power: 3W
Maximum sound level: 85 dBC (standard mode), 45 dBC (low-power mode)
LED: Full Spectrum LED Diodes
Ampere App compatible (​​IOS 13 and above Android 8.0 and above)
Materials

IPX7 waterproof rating
Made from recycled ocean plastic
Dimensions and Weight
183mm x 95mm x 91mm
20 oz / 563g
Free US and international shipping on orders over $69, and our 30 days money-back guarantee.
This product is covered by our 1-year limited warranty.
Say goodbye to boring showers
Install once
Always have music in the shower
Designed to never leave you without music in the bathroom — once installed, Shower Power never needs to be removed.
LED Light Ring
Set the mood with a light show
The glowing LED light right brings your music to life. Three modes are pre-set on the speaker, but you can choose even more via the Ampere app.
Hydropower Charging System
Powered by water
Our proprietary hydropower system uses the flow of water from your showerhead to power the speaker so you'll never be without power when you're in the shower
Never worry about charging it
∞
endless sound with running water
16 hours
of sound when fully charged and the shower is off
360° speakers
Big sound, small size
The cylindrical design delivers immersive audio that plays evenly in all directions.
App-enabled
Geek out and track temperature and water usage
Shower Power Pro connects to the Ampere app for even more functionality. Check the temperature of your water or see how much water you're using.
Big buttons
Take control of your music
Play, pause and skip tracks directly on the speaker with the big easy-to-touch buttons.
Sustainability
Made from recycled ocean plastic
Shower Power loves water so to show its appreciation it helps to remove pesky plastic from the ocean. Each shower power contains 16 recovered plastic bottles.
Easy installation
Installs on nearly any showerhead in less than 1 minute
You won't need to call a plumber to help you install it. Shower Power simply screws onto nearly any showerhead — rain, fixed or handheld.
Additional Features
IPX7 Waterproof
A shower speaker has to be waterproof, right? Shower Power boasts an IPX7 rating, which means it could survive a 30-minute bath if it had to.
Supports Bluetooth 5.0
Stream your favorite playlists from your smartphone or any other Bluetooth enabled device.
Multiple Light Modes
Use the Ampere app to customize your LED light on Shower Power Pro. Pick your favorite hue, sync it to your water temperature, and so much more.
With Shower Power there's no need for a battery and no end to the music.
Compare Both Shower Powers
| | | |
| --- | --- | --- |
| Hydropower charging | | |
| ∞ sound with water running | | |
| 360° sound | | |
| LED lights | | |
| App-enabled | | |
| Track water usage and temperature | | |
| Made from recycled ocean plastic | | |
Damn good time
The performance far exceeds my expectations. If you can unscrew a soda bottle, you can install it, and the sound quality is excellent. The light effect isn't that dramatic, but the bf chose disco shower, and so he got the disco shower. A super fun gift, and now we all sing in the shower. Mornings are definitely improved.
So much better than I thought it'd be
Absolutely no complaints. I can finally hear podcasts clearly in the shower. I have yet to listen to music with it, but I imagine it's a great speaker for that, too. One of the nice features is that the speaker turns on as soon as the water is running but doesn't automatically shut off when stopping the water.
Little Oasis away from a 3- & a 1-year-old and husband.
I bought this for my wife (and myself) so that she could sneak off into the shower in the evenings. Shower with relaxing meditation music and help ease the stress of the day away. She loves it!!
I've been using my Shower Power Pro for over a month now, after backing the original Kickstarter campaign. It took a while to arrive, but it was definitely worth it. The volume's loud enough to hear over the water and the ventilation fan in my bathroom (I haven't even tried to see how loud it'll go), and while I feel the lights are somewhat superfluous and I'd probably have been happy without them, they are nice to have on occasion. (I especially like the temperature-detecting mode, but the slowly-changing mode is relaxing as well.) Basically, it does what I wanted: a way to listen to music in the shower that never needs recharging. And, since it's detachable, I've also got a portable Bluetooth speaker (I got a Droplet as well which I ended up putting in my kitchen, giving me a stereo set of portable speakers.) I was quite impressed with the quality and professionalism of both packaging and product when it arrived – clearly the delay in it getting to me was put to good use. If this is the kind of thing you like, I can definitely recommend the build quality, and I look forward to using both of mine in-shower and out for many years to come.
Good 👍 product. Initiative and innovative
Innovative and fun to use Shower Power
I don't want to stop showering
I used to have my cellphone in the bathroom playing music, and sure, it produced music. But now, with Shower Power, I can actually hear the music. I'm not sure if my neighbors are so happy about it, but I don't care, 'cause I can't hear them over my Shower Power!
Love it
Shower power has changed the game! I love feeling like I'm at the club while I'm in the shower 🚿
Awesome
The shower power is super dope. Great sound and the right amount of base. I listen to podcasts, music and live sports. Too dope!
Shower Power Pro
Great product, loving having a wireless speaker powered only by the water from my shower
Droplet Waterproof Speaker