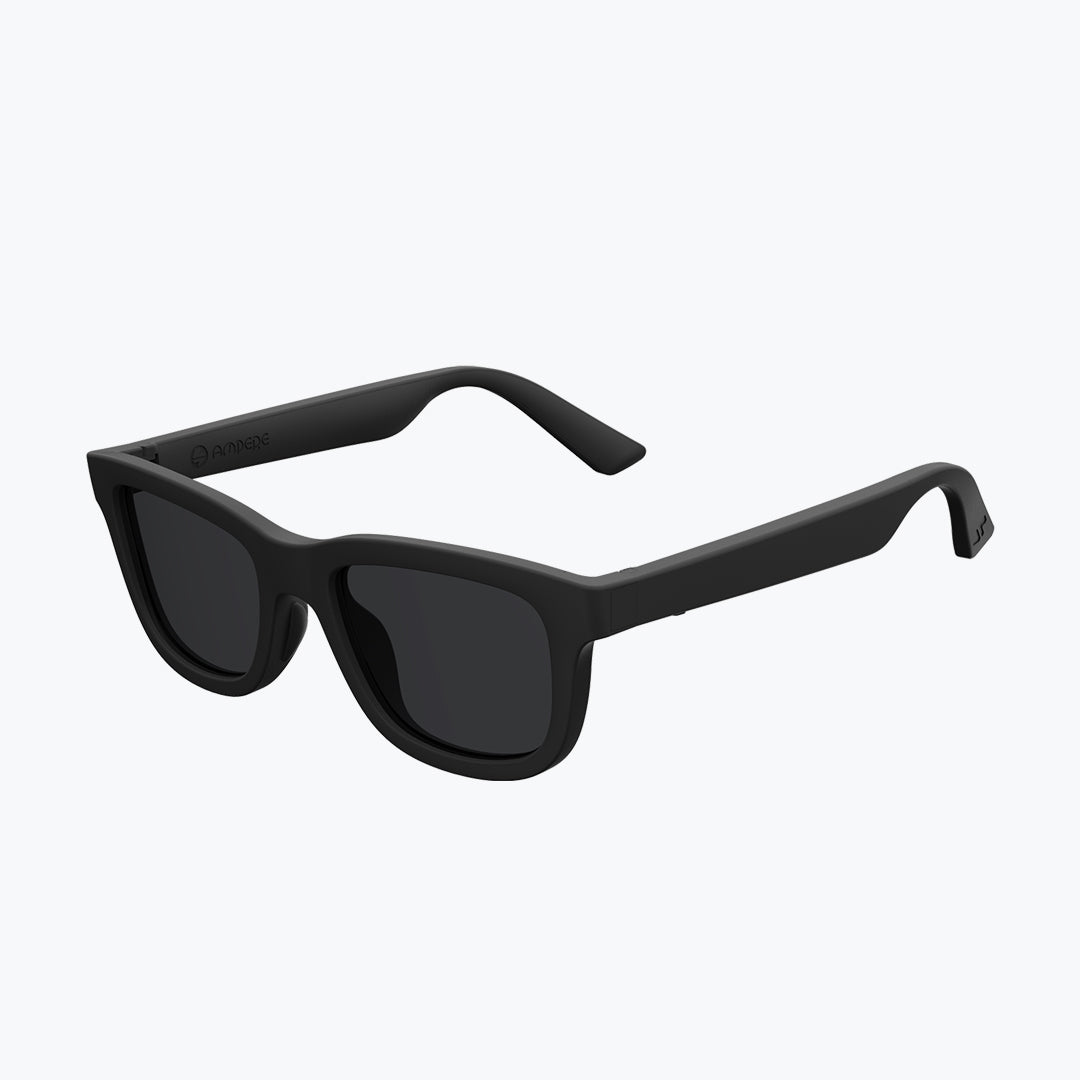 Dusk
App-enabled tint changing smart sunglasses with built-in audio
or 4 interest-free payments of $62 with

or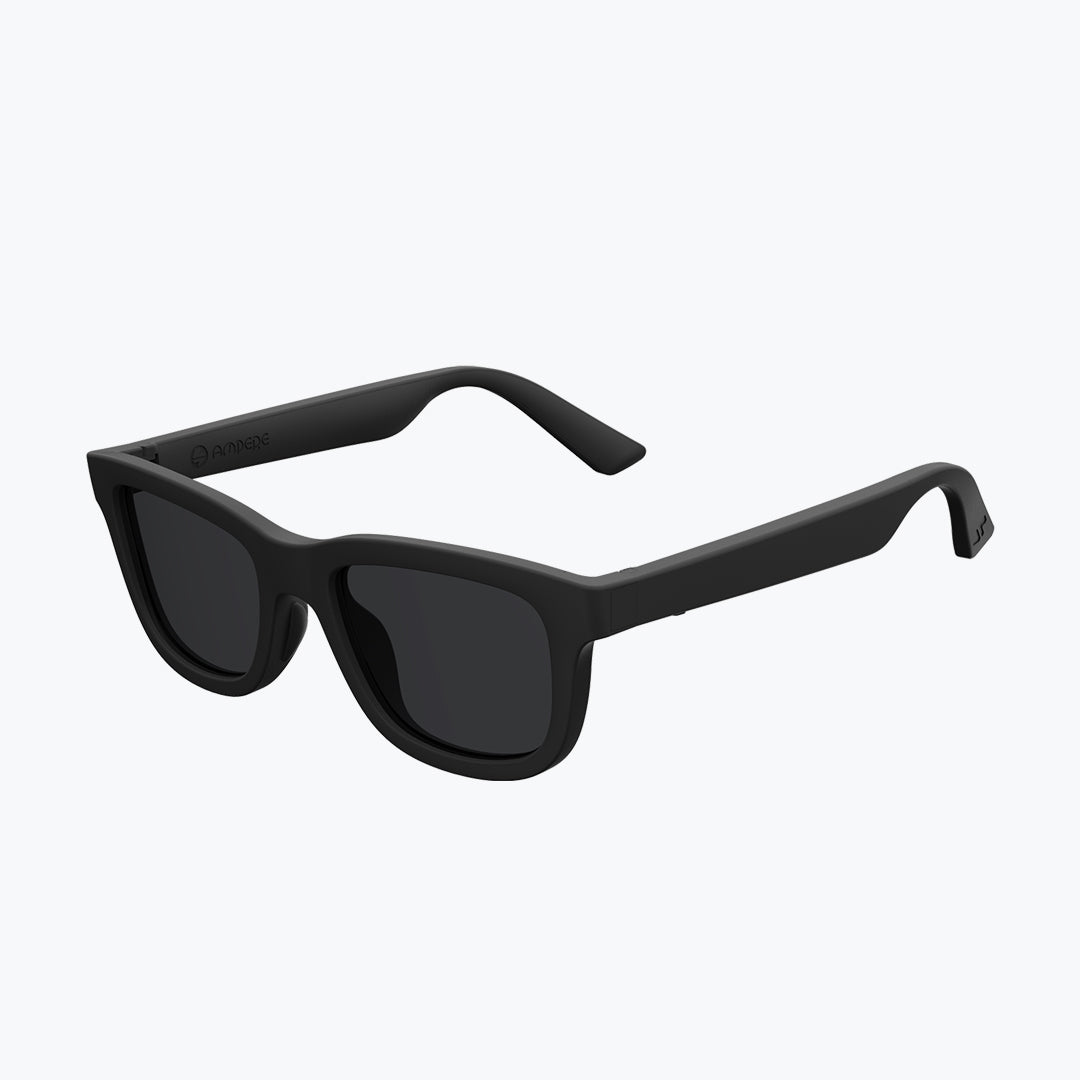 Dusk are the world's first pair of app-enabled tint changing smart sunglasses — you choose the tint when you want, instantly.
Electrochromic lenses

App-enabled

Open-ear audio

Integrated microphone

Voice-assistant ready

Polarized lenses

Classic Wayfarer-style

IPX4 Waterproof and Dustproof

Fast-charging

Built-in location finder

1-year Warranty
Battery
110 mAh battery capacity
Battery life: 7 days of paired tint adjustment, 4 hours of listening
Battery charging time: Charge 80% in 15 minutes, 100% in 45 minutes
Battery charging method: Custom pogo pin cable or the Dusk wireless charging case
Other Technical

Bluetooth 5.0 compatible
2x speakers with 20-20,000Hz frequency
2x MEMS digital microphone
LED charging and pairing indicators
2m braided USB-C to Pogo Pin power cable
Materials

Frames: TR-90 nylon with IPX4 water-resistant rating
Lenses: Shatter and scratch-resistant polarized TAC,
Carrying case: Soft neoprene
Dimensions and Weight
166mm x 141mm x 18mm (arm length, temple-to-temple width, frame height)
0.9 oz / 26 grams
Free US and international shipping on orders over $69, and our 30 days money-back guarantee.
This product is covered by our 1-year limited warranty.
The Best Smart Sunglasses for Outdoors
Electrochromic lenses
You choose the tint level
Adjust the tint in 0.1 secs with the press of a button on the frame or connect them to the Ampere app to set the tint exactly how you want.
Versatile lenses
Perfect for any time of day
The lenses give you true dawn-to-dusk versatility and suit any weather scenario, so you won't have to buy several pairs.
The full tint range
A little dark? A lot dark? Choose what's right for you.
Built-in speakers
Crystal clear sound discreetly delivered
Listen to your favorite music, podcasts and audiobooks. The direction speakers mean it will be for your ears only.
Built-in microphone
Take hands-free calls or summon Siri
Take calls directly through the frames. Plus you can control your music, calls, volume, get directions and more — without reaching for your phone.
PLASTIC-FREE PACKAGING
What comes in the box?
• Dusk Electrochromic Smart Sunglasses
• Protective pouch for Dusk
• Microfiber lens cleaning cloth
• USB-C to Pogo Pin charging cable
• Warranty sign-up card
• Replaceable nose pads
• Polarized testing card
Really, really good looking sunglasses
More than enough power to last you from dawn to...dusk.
7 days
of pairing time for app-tint control
40 hours
of listening time with a fully charged case
4 hours
of active listening on one charge
Additional Features
Ultra-lightweight
Dusk weigh less than 28 grams, so you're guaranteed all-day comfort.
Polarized lenses
See things a little more clearly with Dusk's polarized lenses. They block 100% of UVA and UVB rays too.
Built-in alarm
Misplaced your pair of Dusk at home? Set off an alarm via the Ampere app to help track them down.
These are still good looking sunglasses, even with all the technology packed into them.
Compare Dusk and Dusk Lite
| | | |
| --- | --- | --- |
| Electrochromic Lenses | | |
| App-enabled | | |
| Polarized lenses | | |
| Built-in Audio | | |
| Built-in Microphones | | |
| Voice-assistant Ready | | |
| Mirror Lens Upgrade | | |
| Other Colorways | | |
DUSK LENSES
In partnership with Wicue, the world leader in flexible liquid crystal film technology
In partnership with Wicue, the world leader in flexible liquid crystal film technology
CUTTING EDGE TECHNOLOGY
Revolutionary liquid crystal lenses
By altering the voltage, we can control the orientation of liquid crystal molecules in the lens, allowing us to adjust the tint level with 1% precision. Dusk lenses transition in just 01 seconds and offer unparalleled optical clarity with low haze
Travel must have
Best travel sunglasses when I'm on a trip! Easy to adjust and they work well indoor and outdoor. I used to bring multiple pairs of sunnies with me but now I only bring dusk
Great charging and maintenance case for these glasses
Works well and charge maintains well. This is my second purchase and it is for my wife who is pleased.
Love them
They are extremely comfortable lightweight eventually I am hoping that they'll be able to put prescription into the lenses that will all be ultimate I think because everything about these glasses are awesome! The charge last for a long time and to recharge it's quick to equal a complete charge.
Above and Beyond
Great and Easy to use. Installation took a while but after that it was easy to Setup your Preference. I use it while Driving my Car and Inside my motorcycle helmet. Highly Recommended
Must have glasses
I love my dusk glasses, not only can you control the tent, but you can answer your phone and hear music through your glasses. I love my pair.
Amazing
Simply I love it. The shape is subjective , I used to it. Better to be little lighter but overall it's amazing, using it daily although I have many from ray-ban , Porsche Design, Serengeti, Prada and other !
Good service!
They have an excellent Customer service!
tech Savy
Always liked the look of a good pair of sunglasses, but at the same time, never was satysfied with the polarized, too dark or not good protection at all, but with these i can choose, also, loved, and i mean loved the hands free feature and built in speakers, sound amazingly loud for the size and clear... best tech purchase of the year for me :D
Versatile
Under normal circumstances i would not write anything, but i loved the wireless charging method for the case, besides the well made feeling and protection for my dusks.