3 x 10W Fast-charge Wireless Pads
USB-C Output Port, Wire-charge a 4th Device
Patent-pending Hinge Design for Multiple Positions
Stacks and Fits into 5" travel Case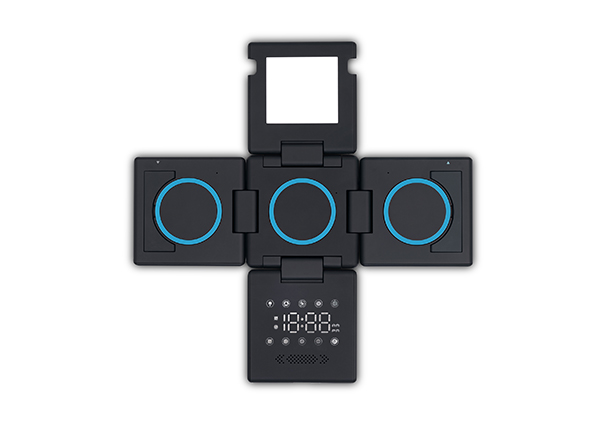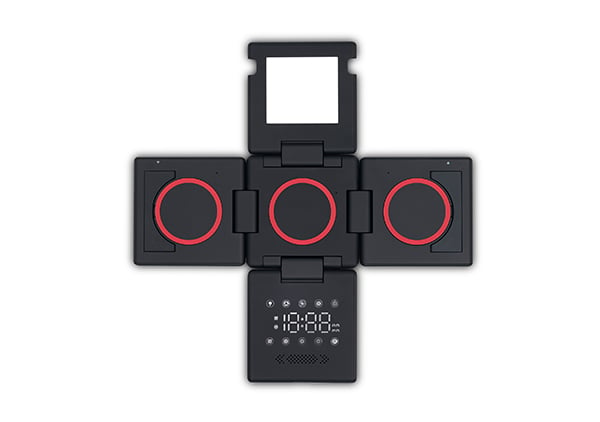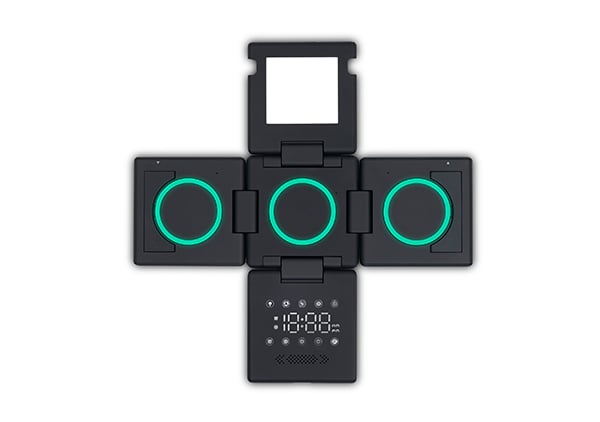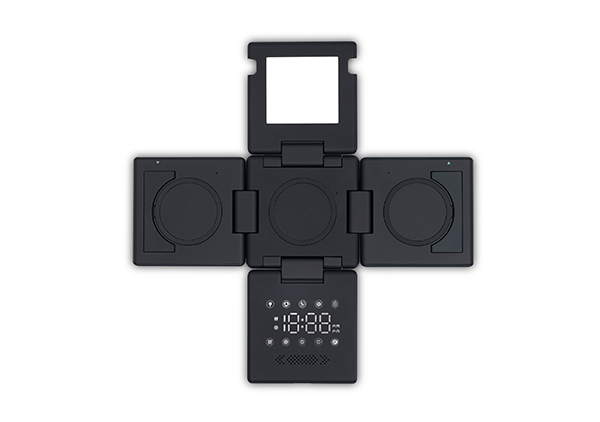 Color-changing LED Light Panel
3 x 10W Fast-charge Wireless Pads
USB-C Output Port, Wire-charge a 4th Device
Patent-pending Hinge Design for Multiple Positions
Stacks and Fits into 5" travel Case
Color-changing LED Light Panel
USB-C PD — Compatible with any Type-C USB-C PD adapter. Use with 60W for max speed for using all three panels at 10W.
10W + 10W + 10W wireless charging coils, plus one 10W USB-C output port
Wireless panels work with all Qi-enabled devices, AirPods Pro and AirPods with Wireless Charging Case. Output port works with any device that can be powered via a Type-C port.
---
88 mm x 88 mm x 10 mm (per panel)
HyperCube / 60W USB-C PD adapter / 2m USB-C to USB-C cable / Instruction manual
---
REVIEWS
Too bright and wireless charging is spotty at best.
Splendid
Does exactly what is says. The product is easy on the eye, looks slick, compact and overall a solid product. Very handy when traveling, if we ever get to travel again anytime soon.
Best charging station by far!
I love the HyperCube Charging station and PowerCube. It's very powerful and stylish. I'm so happy that I can charge all 4 of my devices on 1 station. The only annoying thing was that it took over a month to receive it from China due to COVID-19. Customer service was exceptional in response time (almost immediately after each email) and keeping me updated. Also, I would recommend that there is 1 additional dimmer setting on the alarm clock. At the lowest setting, it is still EXTREMELY bright at night. Looking forward to when the Speaker base hits the market!
Hi T. Trueblood,
So glad to hear you are enjoying HyperCube! As for the alarm face, have you tried turning it off completely?
The 'light alarm button' is also used to adjust the display brightness. Long press the 'light alarm button' and all touch buttons will turn off except for +/-. Use those to increase and decrease brightness, respectively. You can then turn the alarm face LEDs completely off so you can sleep in total darkness (aka dark mode). Even when the alarm face is completely turned off, the alarm face can still be viewed by touching anywhere on the alarm panel face. Then, the clock face will illuminate for five seconds before returning to 'dark mode'. Hope this helps!
We're also excited about the speaker base ;-)
They love it!
Got the glow in dark hypercube for my big sister and brother in law for Christmas and they really love it!! Shipping was delayed and didn't end up sending it until I email them a couple times but they really tried their best which I'm sure is difficult with the pandemic however their response time was very quick. Probably going to purchase another for my dad.
Missing expected features
So far so good, the cube is easily manipulated into pretty much any shape you want. I gave it a 4 star because the clock and control face has no ability to be dimmed. The clock far is bright enough it lights up half the room so ended up folding the clock face so it is hidden. This takes one charging face. Would give 5-star if it had a dimming feature on the clock face. Would have liked an watch charger to be built in but I knew that was not the case when I bought it.
Brilliant idea and with a little improvement the product would be brilliant.
The main issue that I have with the product is that if there is a power interruption the clock is reset. Not very good if it happens overnight. Perhaps this is the reason for selling the power pack. The other thing I would like to know is when are the add on speaker assembly going to be available.
Great product
Given as a gift impressed multifunctional
Product is OK, but it does not charge smartwatch.
Other than the smart watches due to the magnets everything works fine. It does not have an apple smart watch built in. All phones and apple Air Pro pods fully function.
Works as expected
The devise charges my IPhone, Apple Watch and Apple Pro earbuds at the same time. It is also nice to have a clock on the nightstand.
Have been looking for this!
And found it finally! Needed a large enough digital clock by my bed because I'm a light sleeper and prefer to check the time on a clock than grabbing my phone. Plus the Hypercube's clock can be turned off since I want total darkness in the bedroom, but with a light tap on the clock face, the light turns back on briefly to show the time! Then I'm also wirelessly charging my iPhone and Samsung phone on this device, taking up very little real estate on my night stand. While I don't use the sleep aid since I wear earplugs, I did try it one night and it was a continuous gentle sound of waves that was not annoying. This is not, by any means, an inexpensive device, but because of its versatility, compact size, foldability and can travel, I'd consider it multiple devices that would've cost the same if purchased separately but now I have all of that functionality in one unit. Finally, the travel AC adapter that was included could not power up my Hypercube, but after a short and pleasant exchange with their highly responsive customer service folks, they quickly sent me a new adapter. Great product. Great service.